29. Oktober 2007 15:24
Hallöchen allerseits,
hier zeige ich Euch ein Layout, das ich im Rahmen einer Challenge geschrappt habe. Es hat mir viel Spaß gemacht.
LG
Seestern
Wer sagt es gibt keine Wunder auf dieser Welt hat noch nie die Geburt eines Kindes erlebt.
Who says there are no wonders in the world, never watch a child been born.
Wer sagt Reichtum ist alles hat noch nie ein Kind lächeln gesehen. Who says wealth is everything never watch a child smile
Wer sagt die Welt sei nicht mehr zu retten hat vergessen das Kinder Hoffnung bedeuten
Who says the world can't be rescued had forgotten that Childern means Hope.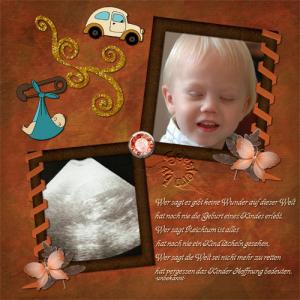 Credits:
Autumn Leaves by DSB-Store
Plaisier D'Automne by Petit Moineaux
Prunelle by Petit Moineaux
Harvest Spice by Shabby Princess
Font Ajile